Microblot-Array (MBA) is a new generation of a market-unique immunoblot array in a microtiter plate format. It is designed for efficient multiplex diagnostics, enabling the simultaneous detection of multiple markers which is time and cost-saving.
The technology eliminates the limited capacity of traditional BLOT strips and opens the way to high throughput testing.
Simple processing can be done manually or automatically using any open ELISA analysers.
The comprehensive evaluation is ensured by the TestLine Reader and Software (SW) for complex image analysis, including results evaluation and connectivity to LIS.
Content
Microblot-Array principle
The principle is the same as immunoblot, but the microplate is used instead of a strip.
During the test, specific antibodies from a sample bind with antigens in a well. Next, the wells are incubated by conjugate, during the bound antibodies react with the alkaline phosphatase labelled antibody. Visualization of this reaction is done by incubation with substrate solution. The reaction is stopped by distilled water. The intensity of antigenic spots is measured by the Reader, and the results are evaluated by interactive Software.
To verify the validity of the assay, the wells contain control spots to check for the presence of the appropriate conjugate and control spots to check the functionality and sensitivity of the kit. To allow quantitative evaluation, the wells also contain calibration spots.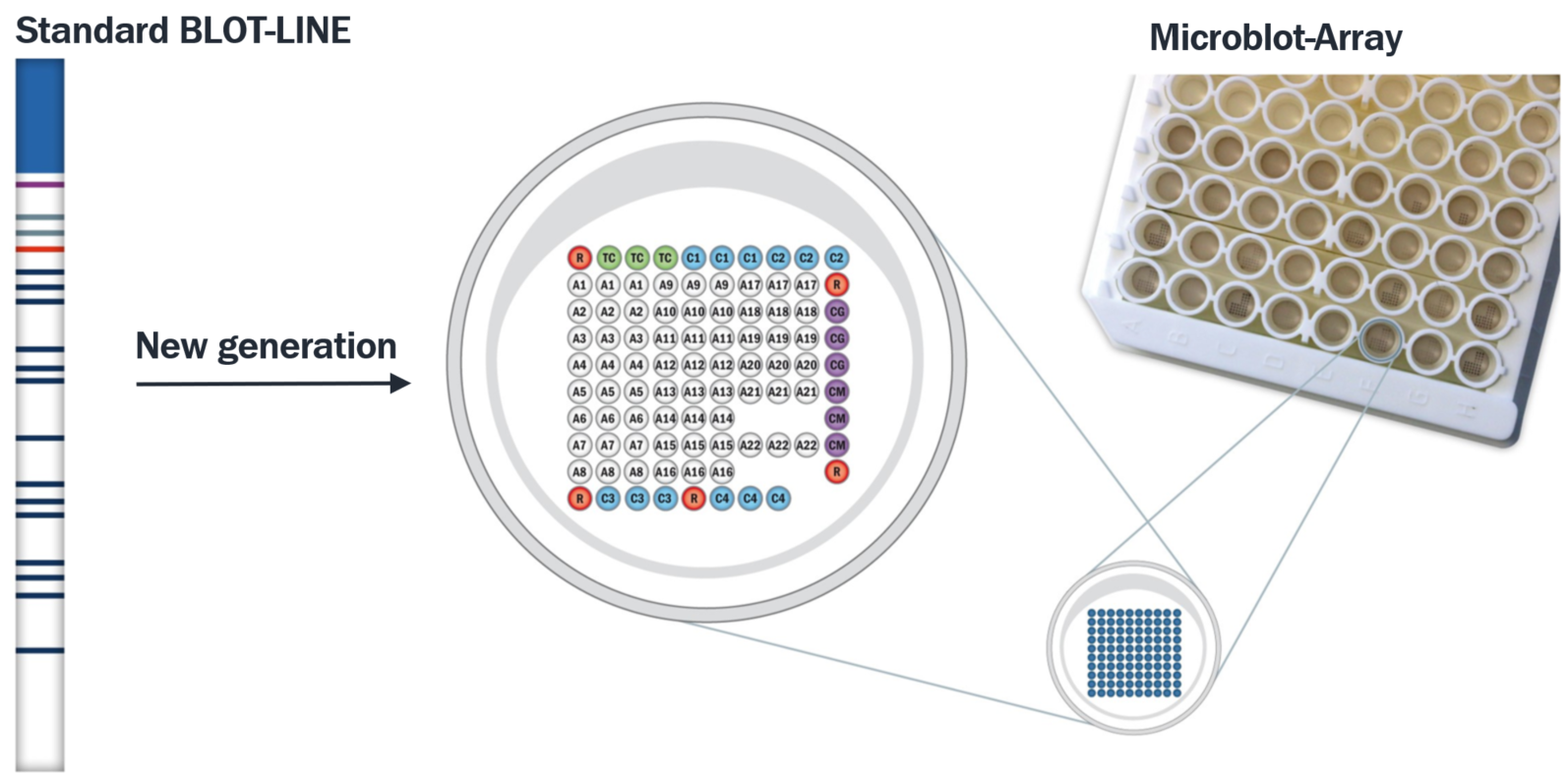 | | | |
| --- | --- | --- |
| PROPERTIES | BLOT-LINE | MICROBLOT-ARRAY |
| Maximum antigens per strip/well | 19 | 44 |
| Tests per kit | 20 | up to 96 |
| Maximum capacity per strip/well | 21 bands | 200 spots |
| Sample consumption per test | 30 µl | 10 µl |
Microblot-Array advantages
Efficiency
Analysis of up to 96 samples per microplate
Highly specific recombinant antigens are spotted in triplicate to minimize errors
Up to 44 different antigens (parameter) in one well
Low sample consumption (10 μl)
User comfort
Ready-to-use (RTU) reagents
Color-coded wells to distinguish individual immunoglobulin classes
Breakable wells Identical assay procedure
Incubation: 30-30-15 min
Remote troubleshooting and technical support
Automation
Possibility of automated processing using open ELISA instruments
Automatic test identification due to barcode at the bottom on each well
Evaluation of individual antigens and their association with pathogen species or disease type
Evaluation of full plate by Reader and Software in 5 min
Microblot-Array kit
Reagents
All reagents are ready-to-use:
Positive control – solution containing specific antibodies
Conjugate – solution containing alkaline phosphatase labelled animal immunoglobulin
Substrate solution – buffer with BCIP and NBT
Universal solution – buffer for sample dilution and strip washing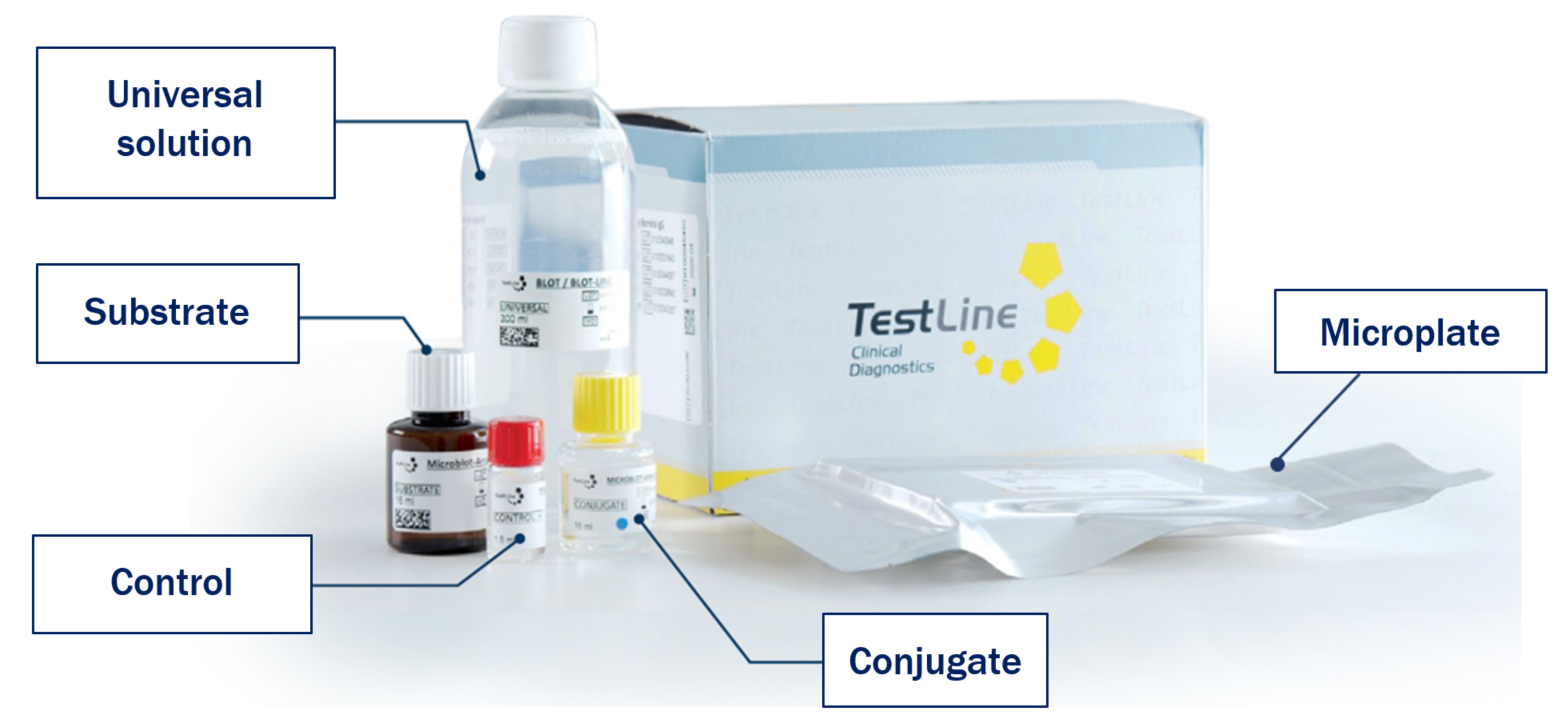 Microplate
Recombinant antigens are spotted in triplicate on a nitrocellulose membrane and fixed at the bottom of each well. The microplate consists of 96 breakable wells, and each well represents one test. At the bottom of each well is a barcode for automatic identification by the Reader.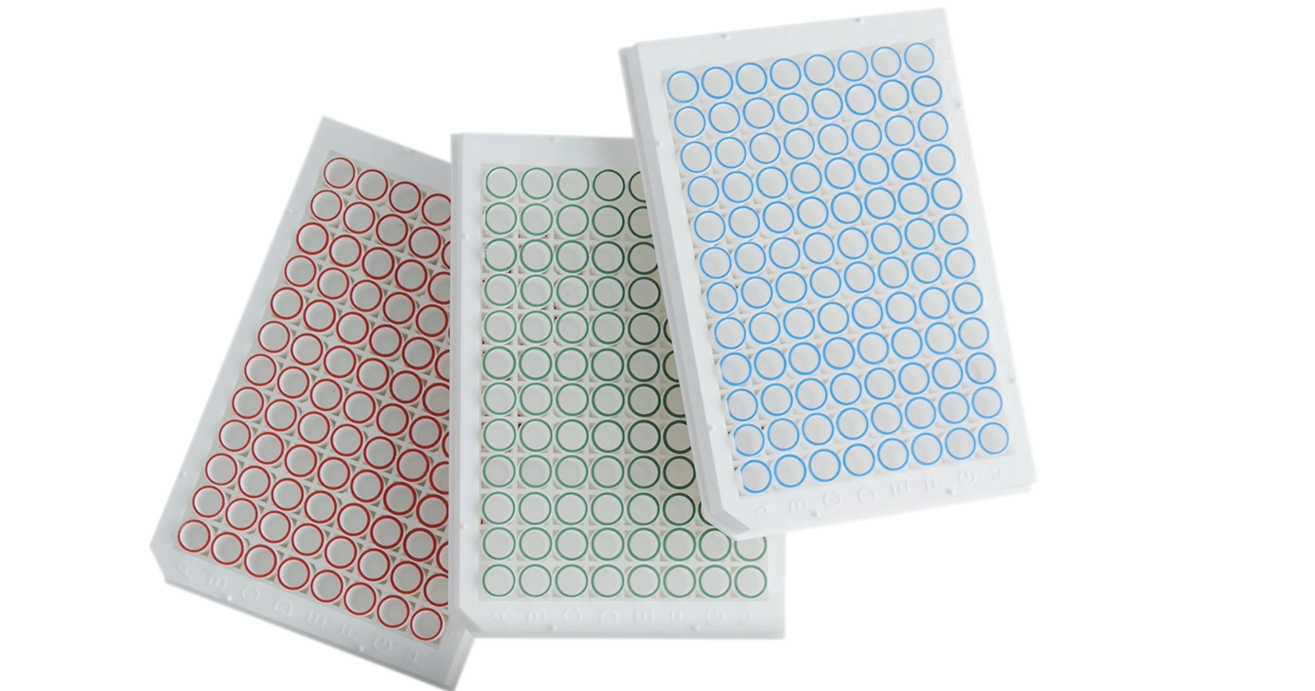 Well
Each well is breakable for flexible testing.
Every spot in triplicate:
Reference spots – controlling spots localization during the SW evaluation
Test control - checking the functionality of the test
Conjugate control - verification of the presence and functionality of conjugate
4 calibration spots – creating a calibration curve to quantitative evaluation
Diagnostic spots
Color-coded wells to distinguish antibody class:
IgG – blue
IgA – green
IgM – red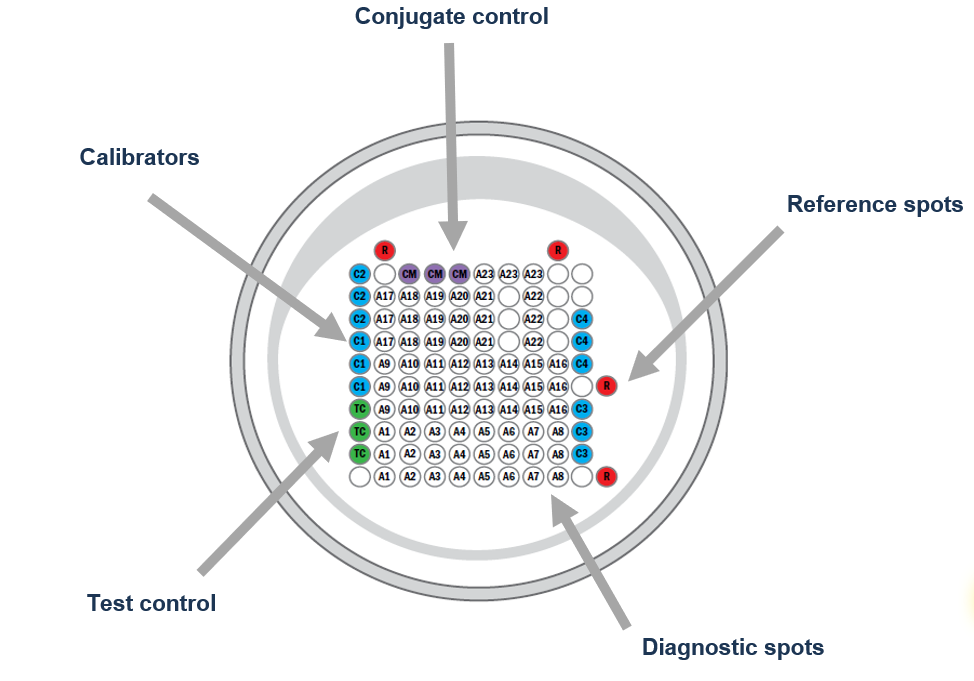 Processing
The processing of Microblot-Array kits is identical to the standard performance of other immuno-enzymatic tests with the possibility of using ELISA instruments (automatic analyser, washer).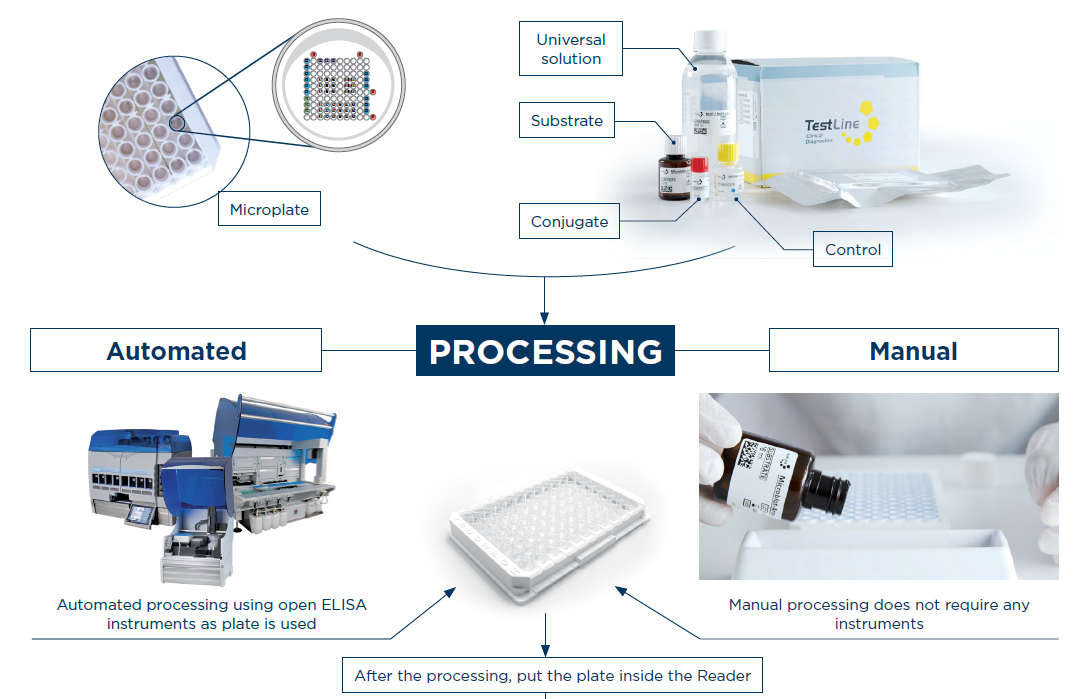 Protocol summary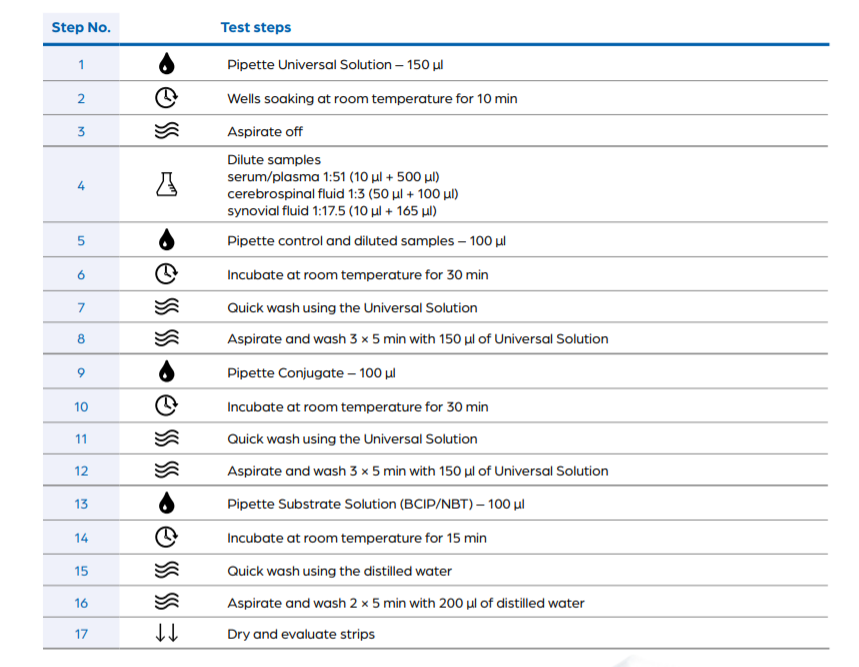 Automated processing
TestLine kits are compatible with majority of open ELISA instruments as ELISA-like plate is used.
Use this procedure for EIA analyser
Allow all reagents to come to the room temperature and put them in the analyser.
Insert MBA plate in a holder and follow the instructions on the analyser.
Remove the plate and all reagents from the analyser when the run is finished. Close all reagents and store them according to the defined storage conditions.
Evaluate your results using the Reader and Software.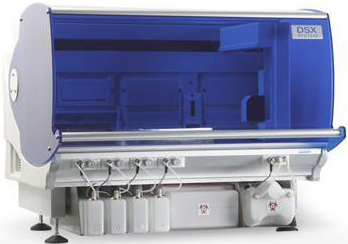 DSX (Dynex Technologies, USA)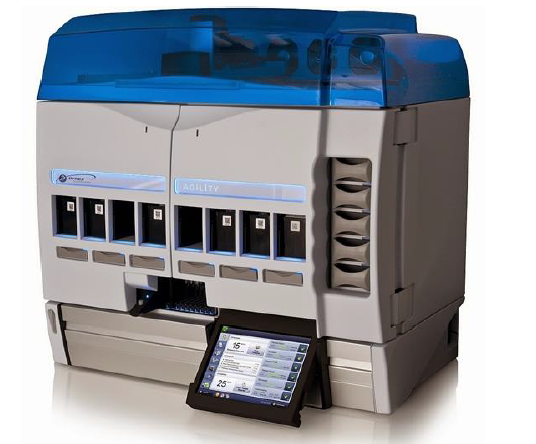 Agility® (Dynex, USA)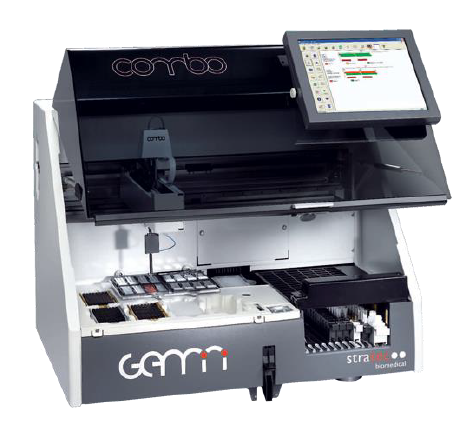 Gemini (STRATEC Biomedical AG, DE)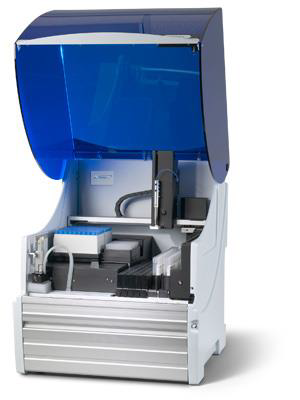 DS2 (Dynex Technologies, USA)
Evaluation
Evaluation of the results is done by the Reader and Software. It is based on a combination of positive specific antigen spots. Individual antigens are always spotted in triplicate and Software automatically optimizes evaluation of the test. All kinds of evaluations are done by software.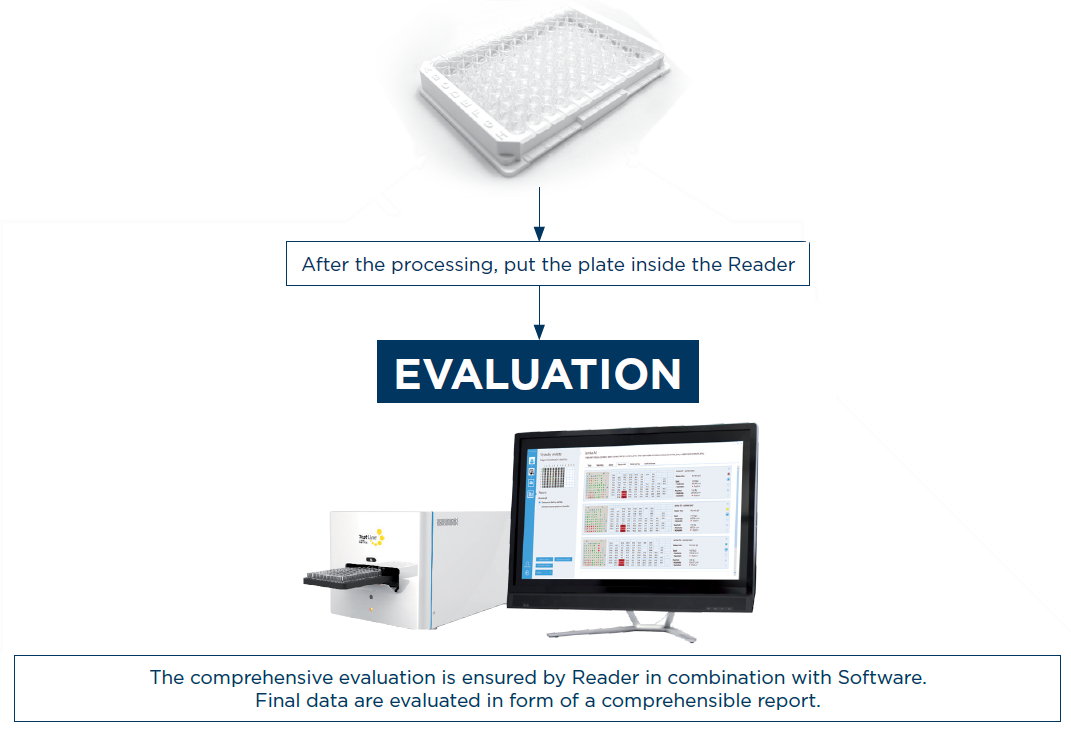 Microblot-Array Reader
Fast high-quality scanning
Scanning of selected wells/strips
Automated spot localization and image analysis
Optimized for 96-well microtiter plate format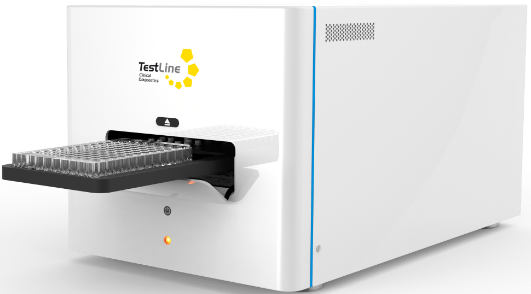 Microblot-Array Software
Highly interactive SW with comprehensible reporting
Evaluation based on the combination of positive antigen spots: qualitative, quantitative (U/ml), or semiquantitative (IP)
Automated test identification
Intuitive and user-friendly guiding throughout the results evaluation
Complex image analysis
Optional manual control of spot localization
Detailed results comparison within single wells and spots
Evaluation of the tests' validity through control spots
Export of results in various formats
LIS connectivity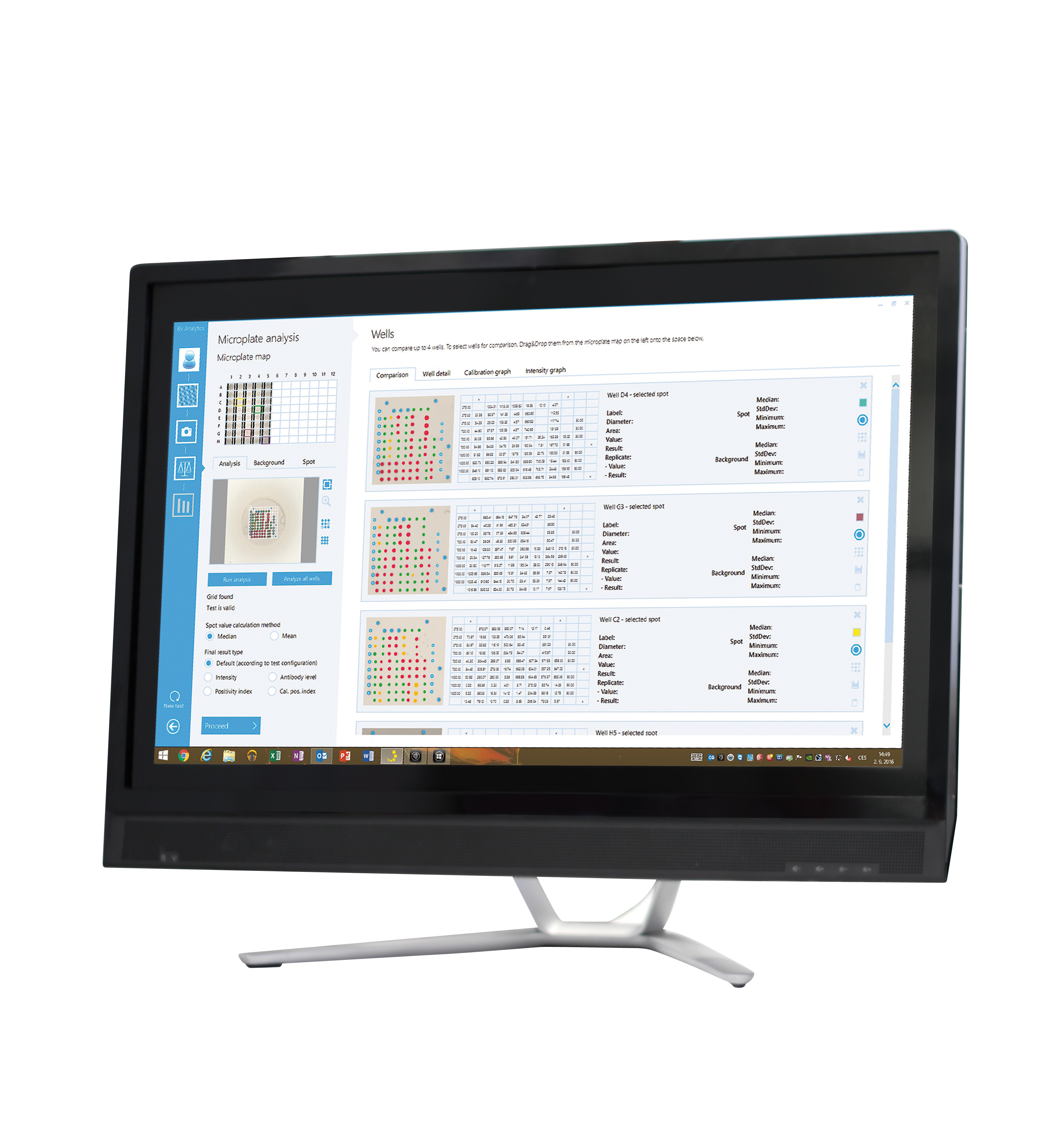 Report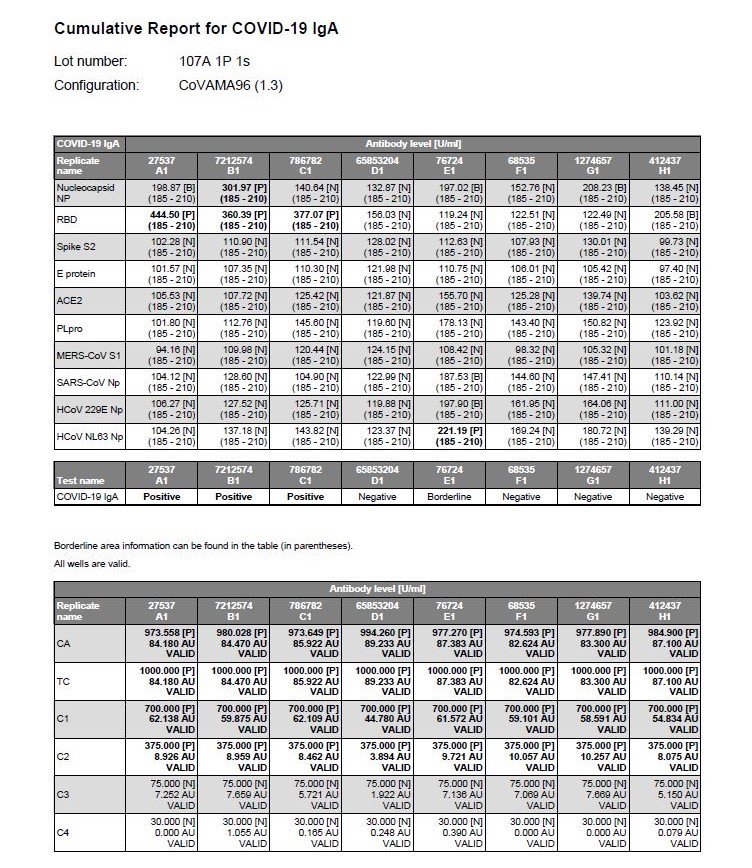 Cumulative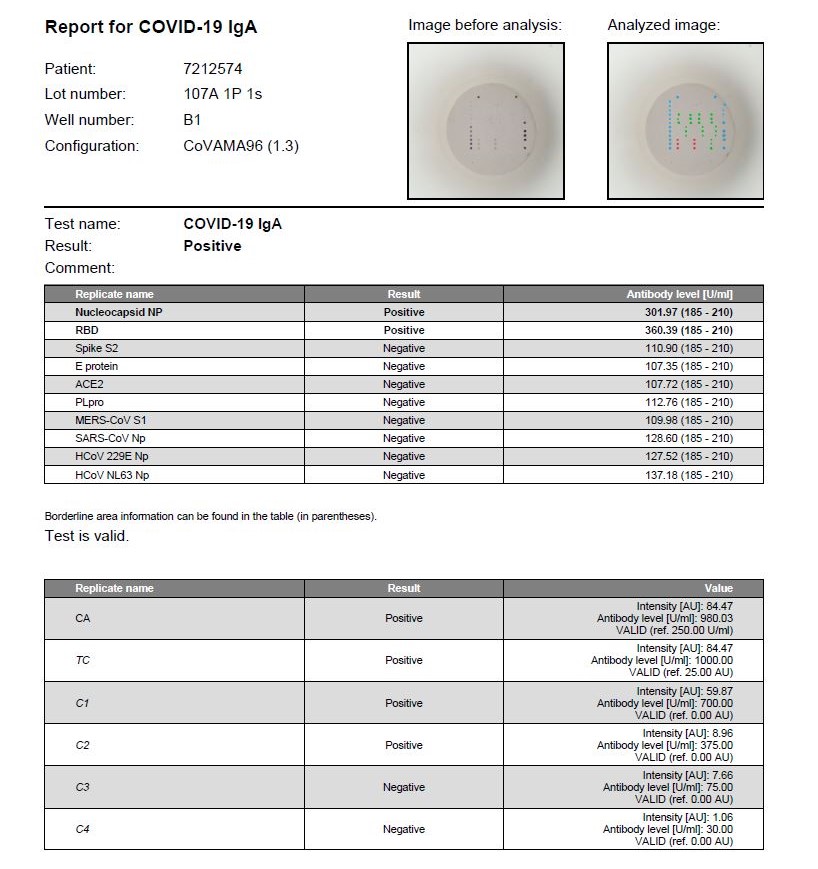 Detailed
Microblot-Array products
Immunology
Infectious serology
Upcoming new products
Microblot-Array Herpetic Infections IgM
Microblot-Array Herpetic Infections IgG
Microblot-Array Autoimmune Neuropathy IgG
Microblot-Array Ganglioside Profile IgM
Microblot-Array Ganglioside Profile IgG
Microblot-Array Gastroinfection IgA
Microblot-Array Gastroinfection IgG
Microblot-Array Atypical Respirations IgA
Microblot-Array Atypical Respirations IgMv
Microblot-Array Atypical Respirations IgG
Microblot-Array LKM Profile IgG